You can add Print Screen capability to your computer by installing the attached PrintKey
program. This is a free program Copyright(c)97,98,1999 By Alfred Bolliger All Rights
Reserved Modification and Sale Prohibited. See the
PrintKey web site
for more
information.
Installing PrintKey
Click on the file name link below, and save the file on your hard disk
remember where (in which folder) you save it
PrintKey_Light_Setup_510.exe
(459K)
Then run Windows Explorer and locate the file you just saved, double-click on it, and let
it install PrintKey on your computer.
Once the PrintKey pogrom is running, you will see a little hand icon

in your system
tray in the lower right of your screen. (shown below just to the left of "7:20 PM")

Using PrintKey
As long as PrintKey is running, you can print any window of any program
by simply pressing Alt-PrintScrn, and then pressing the Enter key. (A complicated
window will pop up, but just press Enter, and it will start printing.) If you want to print
your entire screen, press the PrintScrn key alone (without the Alt key).
Initially, PrintKey will not automatically run each time you turn your computer on, so
before you attempt to print a screen, you'll need to run PrintKey from your Start -
Programs menu. Your menu will look similar to the sample below.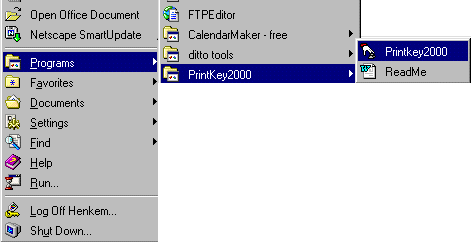 Making PrintKey Automatic
If you like, you can set up your computer to run PrintKey
automatically each time you turn your computer on, by copying the PrintKey shortcut
into your Programs-StartUp folder. If you're not sure how to do this, feel free to call
and have one of our consultants talk you through it.